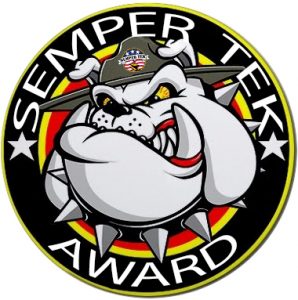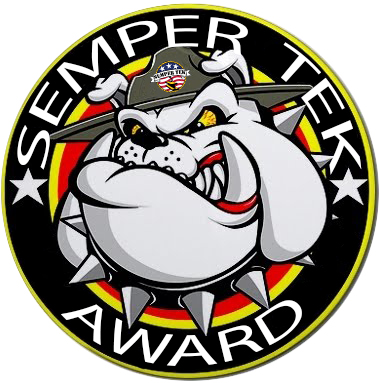 Semper Tek is committed to providing our clients with excellent customer service, on-time project delivery, and most importantly a safe construction environment.
The Semper Tek Bulldog Award is given to employees whose work exhibits levels of professionalism that exceed our already high standards for performance. These coveted awards are difficult to earn and are a mark of exceptional performance, which our team members strive to achieve on every project.
The Bulldog Award is an excellent motivational tool within our firm, and is an outstanding service to our client. Look for these hard hat stickers on our jobs sites and in our offices.
Semper Tek Team Members Awarded the Bulldog Award
2020
Cameron Collier, Laborer
Dillon Dowling, Laborer
Steven Dunlevy, Laborer
Chris Rowell, Superintendent 
Steven Wright, Superintendent
This team in Memphis went above and beyond to accommodate a required last-minute schedule change requested by the VA to complete critical crane work, including expedited demobilization of the crane.
2019
Wayne Nicely, Carpenter
Exceptional performance on the job site
Joe Guffey, Warehouse Manager
Outstanding service, going above expectations on all duties assigned
Shawn James, Quality Control Manager
Exceptional Dedication to the CBOC Project
Bill Daugherty, Sr. Project Manager
Exceptional effort is project control and mentorship of the newer assistant PM, but primarily for his efforts and leadership in taking the reins of the SGa office while Santiago has been pulled to Knox.
Chad Smith, Assistant Project Manager
Managed the B554 Conf Annex project with great success. Chad has shown a great ability to build relationships with subs and other team members to build successful projects. His coordination of the lodging needs in Warner Robins alone is worthy of an award, from dealing with Southland to arranging a new/better location for the field personnel he has done a great job.
Camille Lewis, IT & Process Improvement Manager
We keep moving her responsibilities around from project management to standard operating procedures to IT. No matter what we throw at her, she excels and shows extreme dedication to make sure things get done. The SOPs she has already generated and the IT issues she has resolved have had massive impact with helping the full team successfully perform their jobs.
Tyler Sermons, Estimator
Stepped up and handled the year end estimating push. In less than a year, Tyler has built out relationship with subs and shown that he can handle the communication and coordination necessary to put together multiple large bids at the same time. Under massive time restraints, Tyler was able to piece together bids for the B125 project with basically no plans and very little specific information from GOV.
Melissa Hicks, Administrative Assistant
Organization. Without any doubt Melissa's efforts on organization and documentation have helped stabilize SE Division work. Whether it was the tireless efforts she put in to help with estimating at year end or the great job she is doing tracking subcontract documents from subs, she has keep the SE Division precon and Operation teams moving forward continuously. We would not have had a successful year end bidding cycle without her organization and coordination of IQSFT/Bid Invites and cold calling potential subs/vendors.
Wayne Suggs, Superintendent
Has overcome repeated challenges to complete the first 9 Phases of the B323 project. Renovating an occupied building, while maintaining strict temperature requirements to meet GOV equipment requirements has been a great challenge that Wayne has excelled at.
To say that he has built a successful relationship with the client is an understatement. Wayne has built such trust with the COR for B323 that he has literally sent another Prime to ask for Wayne's expertise. As awkward as it might have been when they walked into our office trailer, there are few greater signs that GOV trusts you than for the GOV inspector to instruct a Superintendent from another GC to talk to you about how to fix an issue.
Butch Merritt, Site Safety and Health Officer
Was needed to supervise projects as a superintendent and he stepped out of his normal SSHO role to great success.
He completed the B380/B385 Static Pipe Bursting portion of Project 1828. He handled the subcontractor and GOV relationships perfectly and proved that he is a great superintendent in addition to being a great SSHO.
Steve Hale, Superintendent
In the past year, Steve has worked long hours on critical projects. Ranging from working nights to complete the B20128 Fire Protection project to working many long weekends to finish out the NAVAIDs project.
Ron Harley, Superintendent
Completed B554 Conf Annex ahead of schedule and below budget.
Has repeatedly filled in on other projects and consistently gone above and beyond to make sure that everything was handled perfectly.
Currently doing an excellent job on the Circuit 9-04 project. There have been many challenges including a sub that has made things difficult at times, however Ron has done an excellent job coordinating the job and getting the sub back in line.
Ronnie Suggs, Superintendent
Has worked many weekends on the NAVAIDs project, shown amazing restraint when dealing with out of line subs, and has been doing an amazing job on the Vestibules job dealing with a sub that doesn't want to cooperate in the most secure building on base.
Steven Wright, Superintendent
Chris Rowell, Superintendent
Steven Dunlevy, Carpenter
Cameron Collier, Carpenter
Greg Adkins, Carpenter
David Goff, Carpenter
Dillon Dowling, Carpenter
Abbner Fryson, Carpenter (temporary employee)
For continually executing multiple projects simultaneously with excellence at the Memphis VAMC
Mary Fawns, Accounting Manager
For incredible service in areas of accounting, and areas outside of her normal role.
Jeff Means, Superintendent/QC)
Tony Anderson, Superintendent
Steven Dunlevy, Carpenter
Greg Adkins, Carpenter
Cameron Collier, Carpenter
Abbner Fryson (temporary employee)
For outstanding and exemplary work on the Emergency Demolition project for SPS in Nashville for the VA. This project had an extremely aggressive schedule which this team worked diligently to complete ahead of the contract requirements.
Bill Daugherty, Project Manager
For excellence in project management of SE Division work, as well as leadership in Procore/Sage program transitions.
Darren Schmidt, Project Manager
For outstanding management of multiple, diverse projects concurrently
Joe Eisenhauer, Pre-Construction Manager/Estimator
For continuing to provide excellent work in multiple areas including Project Manager, Pre-Construction, and Estimating.
George Schmidt, Superintendent
Joe Guffey, Warehouse Manager
For their outstanding work completing the Walk-In Refrigeration Renovation project at the Lexington VAMC. These individuals received multiple compliments from VA staff for their professionalism and outstanding performance of this project.
2018

Scott Matheny, President
Given by the Semper Tek Team in recognition of his incredible leadership
and success in the company's first 10-years.
George Schmidt, Superintendent
Scott Wharton, Project Manager
For the early completion and excellent administration of the Water Fountains project
Steve Hale, Superintendent
Rob Crouch, Project Manager
For the early completion and excellent administration of the Abatement project in Murfreesboro, TN.
Brad Gray, Superintendent
Randall Talley, Pre-Construction Manager, TN Division
Johnny Talley, Carpenter
4 North Project for the great completion of this complicated emergency project
Santiago Iturralde, Vice President, S.E. Division
For outstanding work in dedication during the pursuit and
contract award of Design-Build VA CBOC, Ft Knox KY.
Jason Brinkmoeller, Senior Vice President
Darren Schmidt, Project Manager
Jeff Skeele, Superintendent
For fast track and high quality construction execution of the
Charles Young Veterans Memorial.
Kevin Atchley, Site Superintendent
For outstanding work and recognized achievements from VA
engineering staff at the Murfreesboro, TN VAMC.
Van Jenkins, III, Vice President, Pre-Construction Services
Joe Eisenhauer, Pre-Construction Manager and Estimating Assistant
Tara Brinkmoeller, Business Development Manager
For outstanding work and dedication of service on bidding and proposals to acquire new business and contracts.
Emily Jenkins, Corporate Business Manager
Mary Fawns, Accounting and Office Assistant
Debi Lancaster, Contract Administrator
For exemplary work in accounting, contract administration, and general office management.
Kevin Atchley, Site Superintendent
For outstanding work and recognized achievements from VA engineering staff at the Murfreesboro, TN VAMC.

Scott Wharton, Project Manager 
James Ruley, Site Superintendent
For work on the Ft. Knox Contingency Operating Location, USACE Louisville
2017
Bill Daugherty, Project Manager
Butch Merritt, SSHO and QC
Wayne Suggs, Superintendent
For work on the Repair SCIFs project, Moody AFB, Georgia
Joe Eisenhauer, Pre-Construction Manager and Estimating Assistant
For extraordinary accomplishments in preparing for numerous projects awarded at the same time
Jeffrey Means, Superintendent
For working additional hours on a time-sensitive project over Veterans Day
George Schmidt, Superintendent
For working both day and night shifts simultaneously on the Dialysis Project at the Leestown VAMC
2008 – 2018 – Celebrating our 10-Year Company Milestone
In honor of our company's 10-Year Business Anniversary, each team member was awarded a Bulldog Award sticker for their contributions to the success of our firm in our first decade in operation.