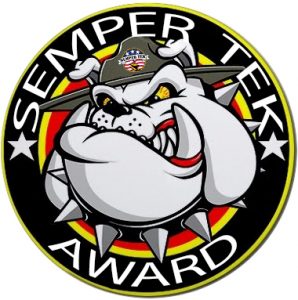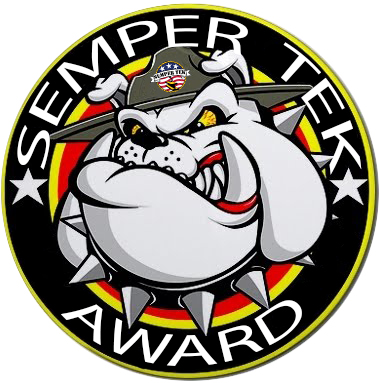 Semper Tek is committed to providing our clients with excellent customer service, on-time project delivery, and most importantly a safe construction environment.
The Semper Tek Bulldog Award is given to employees whose work exhibits levels of professionalism that exceed our already high standards for performance. These coveted awards are difficult to earn and are a mark of exceptional performance, which our team members strive to achieve on every project.
The Bulldog Award is an excellent motivational tool within our firm, and is an outstanding service to our client. Look for these hard hat stickers on our jobs sites and in our offices.
Semper Tek Team Members Awarded the Bulldog Award
2018

Van Jenkins, III, Vice President, Pre-Construction Services
Joe Eisenhauer, Pre-Construction Manager and Estimating Assistant
Tara Brinkmoeller, Business Development Manager
For outstanding work and dedication of service on bidding and proposals to acquire new business and contracts.
Emily Jenkins, Corporate Business Manager
Mary Fawns, Accounting and Office Assistant
Debi Lancaster, Contract Administrator
For exemplary work in accounting, contract administration, and general office management.
Kevin Atchley, Site Superintendent
For outstanding work and recognized achievements from VA engineering staff at the Murfreesboro, TN VAMC.

Scott Wharton, Project Manager 
James Ruley, Site Superintendent
For work on the Ft. Knox Contingency Operating Location, USACE Louisville
2017
Bill Daugherty, Project Manager
Butch Merritt, SSHO and QC
Wayne Suggs, Superintendent
For work on the Repair SCIFs project, Moody AFB, Georgia
Joe Eisenhauer, Pre-Construction Manager and Estimating Assistant
For extraordinary accomplishments in preparing for numerous projects awarded at the same time
Jeffrey Means, Superintendent
For working additional hours on a time-sensitive project over Veterans Day
George Schmidt, Superintendent
For working both day and night shifts simultaneously on the Dialysis Project at the Leestown VAMC
2008 – 2018 – Celebrating our 10-Year Company Milestone
In honor of our company's 10-Year Business Anniversary, each team member was awarded a Bulldog Award sticker for their contributions to the success of our firm in our first decade in operation.