Our firm is always looking for opportunities to encourage members of our community to support veterans.  When we saw the most recent project of former President George W. Bush, we knew it was something we wanted to share with as many people as possible.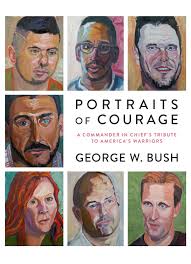 The Portraits of Courage collection is an oil painting art exhibit of 9/11-era Veterans with whom the President has developed relationships since their return from service. All of the portraits have been painted by the President himself. A collection of 66 of the portraits, along with the service members' stories, have been published in a hardback cover book entitled Portraits of Courage: A Commander in Chief's Tribute to America's Warriors. The book is being sold for only $35 online and in stores.
All proceeds from the sales go to supporting veterans through the work  and programs of the George W. Bush Center and its Military Service Initiative. According to the Center's website, "The Military Service Initiative helps post-9/11 veterans and their families make a successful transition to civilian life and addresses issues of veteran wellness, including post-traumatic stress and traumatic brain injury."
The entire portrait collection can be seen in person in Dallas, TX at the George W. Bush Center on the SMU campus until the fall of this year.
Semper Tek, Inc. encourages you to support Veterans in any way that you feel compelled to do so. Whether it is purchasing this book, volunteering at your local VA hospital, or reaching out to a Veteran you know to check-in on them or simply to say 'thank you,' our firm strongly believes that we all share the duty of supporting all our nation's veterans.
For more information about the Portraits of Courage project, click here.  To find out about local volunteering options with the Department of Veterans Affairs, click here.
Thank you in advance for your support of our nation's Veterans.