Recently Semper Tek, Inc. was named as an awardee to the VISN 5 Construction MATOC for the West Virginia Region. This SDVOSB MATOC program for the Department of Veterans Affairs covers facilities in Clarksburg, Martinsburg, Beckley and Huntington, West Virginia.
Semper Tek, Inc. has previously worked with the VAMC in Huntington.  Most recently our firm performed the Install Continuous Water Monitoring (VA249-14-D-0024; TO: VA245-17-J-0454) project at this facility. Semper Tek Project Manager Scott Wharton partnered with the Huntington VA COR and CO to execute this project which involved multiple departments in the active hospital.  Mr. Wharton did an excellent job of coordinating and planning to safely complete the project on-time and with minimal interruption to the hospital staff.
Our firm is also in the final stages of completing the renovation of a BRAC facility for the Huntington VA.  We have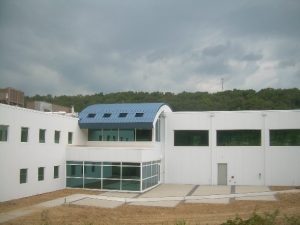 performed roughly 5-acres of site work and have structurally joined two existing buildings. This complete renovation and new construction project began in the summer of 2015. The new building will be used as medical offices. Mr. David Milam has served as the Project Manager for this project and has done a tremendous job executing and coordinating this work.
With this recent MATOC award, Semper Tek is excited to continue to serve the Veterans in the Huntington area, as well as expand our service to the other VAMC campuses within West Virginia. We are passionate about serving Veterans through our construction work for the Department of Veterans Affairs.