The Society of American Military Engineers Valdosta-Moody Post in Valdosta, GA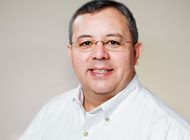 held elections for their slate of officers during their monthly meeting on May 10. Semper Tek S.E. Division Vice President Santiago Iturralde was elected by Post membership to serve as the 2018 Vice President. He will serve alongside:
President: Lt Col Michael Francis
Secretary: Bill Bryan
Treasurer: Anthony Payton
Programs: Randy Crews (2Lt Matt Jacobs will assist when he returns from deployment)
Young Members: Capt Akira Nervik
Santiago will serve on the Board of Directors for the Post and will work collaboratively to grow the  organization and its impact at Moody AFB and throughout the Valdosta community.
Semper Tek is a Sustaining Member of S.A.M.E. and is also active at the Kentuckiana Post, where Business Development Manager Tara Brinkmoeller serves as the Veterans Outreach Committee Chair, as well as serves on the Board of Directors.  To learn more about S.A.M.E., visit their website, www.same.org.