It was announced today that Scott Wharton has been promoted to Senior Project Manager at Semper Tek, Inc. Mr.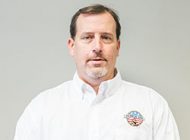 Wharton has worked for Semper Tek for nine years providing project management on a variety of projects for clients such as the Department of Veterans Affairs, U.S. Army Corps of Engineers, and agencies with great success.
Along with the promotion, Mr. Wharton has earned the role as Project Manager on the firm's largest contract in our almost 11 year history. Semper Tek, Inc. was recently awarded the contract for the Construct Continuing Care Facility at the Leestown VA Medical Campus in Lexington, KY.  This project includes the construction of two 10-bed assisted living facilities and has a contract value of more than $11 Million.
We are very proud of Mr. Wharton and offer our congratulations to him on this promotion.