Wanda Ortiz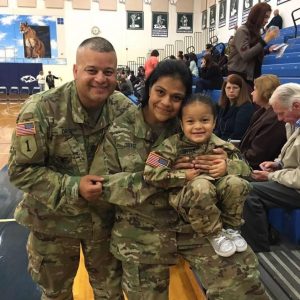 Project Manager
Joined the Semper Tek team in 2019
Wanda Ortiz is an Army Veteran. She served for 10 years, achieving the rank of E-5 while based at U.S. Army Reserve in Joliet, IL. While in the Army Wanda served as a Heavy Construction Equipment Operator and a Culinary Specialist. She deployed to the Dominican Republic during her time of service.
Wanda is most proud of her contribution to her Country. She has worked in the Construction Industry for many years and is proud to now be able to continue to serve fellow Veterans and Active Duty Service Members through her work at VA Hospitals and Military Bases with Semper Tek.
Wanda met her husband while they were both on active duty. Her husband, Raymond Ortiz, has served in the U.S. Marine Corps and continues to serve today in the Army, stationed at Ft. Knox. Her daughter also serves and holds the Command SGT Major Rank. Her family holds their service in high esteem and credits it with their continued success in life. Wanda says, "I feel that everyone should at least server a couple of years in the military, as it provides us with structure in life events."
We are proud of the service of Wanda, her husband and daughter. We thank them, and all Veterans for their service and sacrifice this Veterans Day.