Semper Tek, Inc. and Hinkle Holding Company, LLC were approved by the U.S. Small Business Administration (SBA)  in December 2016 for the All Small Mentor-Protégé Program. Hinkle Holding Company, LLC., a business with management who have significant experience in civil, environmental, and utilities construction will serve as the business Mentor to Semper Tek, Inc. The Mentor-Protégé relationship has operated for three years and has requested an additional three years in the Program with the SBA. The two firms have created a joint venture company, which does business as Semper Tek – Hinkle JV.
About Hinkle Holding Company, LLC
Hinkle Holding Company, LLC includes Hinkle Construction Services, LLC and Hinkle Environmental, LLC. These businesses are engaged in highway construction, design/build, solid waste, concrete, utilities and power projects, as well as a variety of environmental services.
Hinkle Holding Company, LLC's management formerly owned and operated Hinkle Contracting Corporation, which was founded by Mr. Buckner Hinkle. Through Hinkle Contracting Corporation, members of the Hinkle family have managed highway and transportation related construction operations in the southeast U.S., and to a limited extent, Central America. Members of Hinkle Holding Company have completed multi-million dollar projects in utilities construction, asphalt and concrete paving, environmental remediation, railroad construction and earthwork. Additionally, the leadership team at Hinkle Holding have produced and sold construction materials, including crushed limestone, asphalt and masonry products.
To view our joint capability statement, click here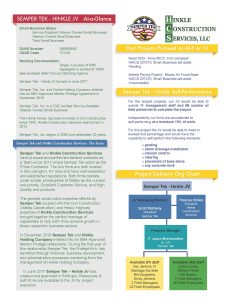 To learn more about the All Small Mentor Protégé Program visit SBA.gov.