Our Team
We firmly believe that our people is what makes Semper Tek a great company. Our employees operate as a family. This mentality pours over into our execution of each awarded contract and is exhibited by our newest field professional to our owner. Semper Tek practices the same principles of customer service that we provide our clients to our own team.  We support and care for one another, which allows for our employees to be confident, honest, intelligent, and proactive in their area of responsibility for a project.
Members of the Semper Tek family are some of the hardest-working, caring, moral, and intelligent thinkers that exist. Our firm is extremely proud of the team we have created since 2008. We look forward to partnering with you for your next project.
Scott Matheny

Founder / President

Jason Brinkmoeller

Sr. Vice President

Van Jenkins III

Vice President

Santiago Iturralde

Vice President, Southeast Division

Bill Daugherty

Director of Operations, S.E. Division

Emily Jenkins

Corporate Business Director

Randall Talley

Regional Coordinator

Eric Boursaw

General Superintendent

Scott Wharton

Senior Project Manager

Elizabeth Becknell

Human Resources Manager

Camille Lewis

IT & Process Improvement Manager

Weston Turner

IT Specialist

Adam DeRossett

Design-Build Manager

Mary Fawns

Accounting Manager

Deborah Guffey

Subcontract Compliance Manager

Joe Eisenhauer

Estimating

Chad Howard

Pre-Construction Specialist

Shawn James

Project Manager

Ranse Jenkins

Project Manager

Nick Munson

Project Manager

Andrew Blackwell

Project Manager

Cole Copeland

Project Manager

Andy Sharp

Project Manager

Chase West

Project Manager

Austin Boone

Assistant Project Manager

Suzie Brown

Assistant Project Manager

Anthony Anderson

Superintendent

Cameron Collier

Superintendent

Brad Crowe

Superintendent

Joe DeJohn

Quality Control

John Dennis

Superintendent

Ron Harley

Quality Control

Derrell Hix

Superintendent

Mark Kornfeind

Superintendent

Jeffrey Means

Superintendent

William Murray

Superintendent

Adam Nelson

Superintendent

Bob Richter

Superintendent

James Ruley

Superintendent

Jerry Schiffbauer

Superintendent

Ronnie Suggs

Superintendent

Steven Suggs

Superintendent

Wayne Suggs

Superintendent

Shane Wise

Superintendent

George Schmidt

Superintendent (Retired)

Joe Guffey

Warehouse Manager

Beth Boursaw

Accounts Payable

Carol Corcoran

Operations Support Specialist

Melissa England

Administrative Assistant

Lisa Miller

Administrative Assistant

Leigh Ann Malone

Pre-Construction Administration Assistant

Carmen Perry

SE Division Intern

James Davidson

Kentucky Office Intern

Jared Couch

Kentucky Office Intern

Joiner Merritt

SE Division Intern

Lily Dennis Bay

HR Assistant

Luisa Puerto Moreno

SE Division Intern

Neil Palmer

Lead Carpenter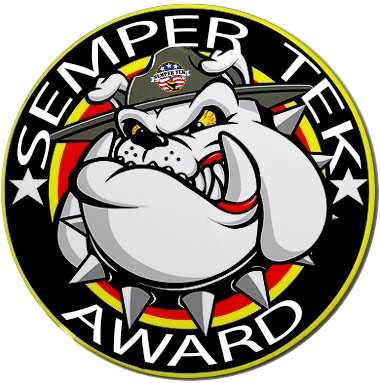 "Semper Tek is committed to providing our clients with excellent customer service, on-time project delivery,

and most importantly a safe construction environment"
The Semper Tek Bulldog Award is given to employees whose work exhibits levels of professionalism that exceed our already high standards for performance. These coveted awards are difficult to earn and are a mark of exceptional performance, which our team members strive to achieve on every project.
The Bulldog Award is an excellent motivational tool within our firm, and is an outstanding service to our client.
Look for these hard hat stickers on our jobs sites and in our offices.
2022 Bulldog Award Recipients
Elizabeth Becknell
Elizabeth Becknell received a Bulldog Award for exemplary work implementing formal AAP and EEO programs for Semper Tek. This endeavor required extensive research and work outside of normal business hours to meet goals and deadlines. Most firms have to hire outside consultants to develop these plans, but she was able to research and compile the information completely in house. We were recently notified that the Office of Federal Contract Compliance (OFCCP) recommended certificate of compliance for Semper Tek. Congratulations to Elizabeth and everyone who was involved!
Jerry Schiffbauer
Jerry Schiffbauer was instrumental in the successful completion of Bldg 229 South Annex, Room 321.  This project was completed in compliance with the ICD 705 requirements and with a user that was constantly present inspecting the ongoing work.  Throughout the project, Jerry's continuous communication with the Gov't and the end user prevented small issues from becoming bigger problems inside the highly secure facility. His daily progress notifications enabled the coordination of GOV escorts to keep the work moving forward in multiple locations throughout Bldg 229.
When an issue was recognized during a security review of the construction of the interior walls, Jerry jumped to action to bring all the necessary personnel in to prevent the issue from spiraling out of control and develop a favorable resolution.  His great work supervising the project was recognized by the individuals directly supporting the work and also by several personnel within the User's Group.  During the pre-final inspection it was stated by one of the main Facility Engineers that "Jerry was great to work with throughout the whole process" and others stated that they hope to work with Jerry again on a future renovation project.
Deborah Guffey
Congratulations Deborah for receiving the Bulldog Award!!! Deborah took initiative and went above and beyond her call-of-duty when she saw our files needed to be cleaned, organized, and packed from our warehouse and office storage. This was much needed and will create a more seamless transition for our move in the next coming weeks. Debi spent many hours in our cold unheated warehouse sitting on the concrete floor going through numerous boxes of hard copy project data as she worked though this project. Thank you and we appreciate all your hard work! 
Steven Suggs
Steven Suggs' willingness to sacrifice multiple days' worth of personal time while already working 40 hours during the week directly contributed to project 2116, Tow-way, phase 1 staying on schedule. Multiple days were lost due to inclement weather preventing our subcontractor from being able to stabilize and compact the base course so that 25 airfield concrete 12" thick slabs (25' x 25') were able to be replaced. The concrete placement was critical to Base Airfield Operations and completion required several late-night pours and weekend work. 
Steven's willingness carried over into project 2023, Rpr/Rpl Lift Stations #9 & 19. While the construction at LS #19 was originally scheduled to be completed in 5 days during the week, due to ambient temperatures and humidity the application of the epoxy coatings was delayed. The construction on lift station #19 wound up running for 9 days straight and Steve was on site for all of the work being performed. Steven's hard work and efforts allowed this project to be completed on schedule.
Steven Dunlevy
On Project 2121 Steven not only covered night shift for the project but was also instrumental in resolving conflicts with the CT machines Isocenter and existing structural steel. Steven's ability to layout the Isocenter of the CT machine from Owner's provided shop drawings onto the existing floor slab and in the pharmacy below to illustrate the conflict with existing structural steel, new structural steel and electrical raceways was instrumental in illustrating the conflict to our client.
Steven also took the lead on installing the STARC panels for ICRA containment for the active pharmacy area. Steven has continued to "volunteer" to cover nights, days or weekend shifts for the active projects in Murfreesboro VAMC.
We would like to thank Steven for his dedication and positive attitude in stepping up to cover our jobsites, his proactive problem solving contributions and his understanding of the importance of ICRA containment.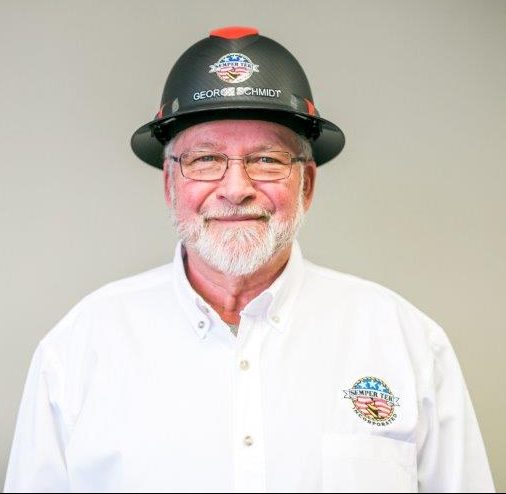 Congratulations on your retirement…
George Schmidt
The Semper Tek Family wishes George Schmidt, Superintendent a wonderful retirement!  George was our 2nd most tenured employee and has been with Semper Tek for more than 11 years. He successfully completed projects in multiple states for multiple clients over the years. In recent years, George spent a majority of his time at the VA facilities in Lexington KY. In fact, George became such an everyday fixture that he was often mistaken as a VA Engineering employee!
While we will certainly miss George's work ethic and dedication, we hope that he and his wife Sally enjoy their time in retirement. Thanks George for all your contributions to Semper Tek over the years and congrats on a well-deserved retirement.