Our Team
We firmly believe that our people is what makes Semper Tek a great company. Our employees operate as a family. This mentality pours over into our execution of each awarded contract and is exhibited by our newest field professional to our owner. Semper Tek practices the same principles of customer service that we provide our clients to our own team.  We support and care for one another, which allows for our employees to be confident, honest, intelligent, and proactive in their area of responsibility for a project.
Members of the Semper Tek family are some of the hardest-working, caring, moral, and intelligent thinkers that exist. Our firm is extremely proud of the team we have created since 2008. We look forward to partnering with you for your next project.
Scott Matheny

Founder / President

Jason Brinkmoeller

Sr. Vice President

Van Jenkins III

Vice President

Santiago Iturralde

Vice President, Southeast Division

Bill Daugherty

Director of Operations, S.E. Division

Emily Jenkins

Corporate Business Director

Randall Talley

Regional Coordinator

Eric Boursaw

General Superintendent

Scott Wharton

Senior Project Manager

Steve Clemmons

Senior Project Manager

Adam DeRossett

Design-Build Manager

Joe Eisenhauer

Project Manager/ Estimating

Chad Howard

Project Manager

Shawn James

Project Manager

Ranse Jenkins

Project Manager

Nick Munson

Project Manager

Andrew Blackwell

Project Manager

Suzie Brown

Assistant Project Manager

Blake Howell

Assistant Project Manager

Kevin Atchley

Superintendent

Ron Harley

Superintendent

Butch Merritt

Superintendent/ Safety

William Murray

Superintendent

Adam Nelson

Superintendent

Bob Richter

Superintendent

Chris Rowell

Superintendent

James Ruley

Superintendent

Jerry Schiffbauer

Superintendent

Ronnie Suggs

Superintendent

Steven Suggs

Superintendent

Wayne Suggs

Superintendent

Steven Wright

Superintendent

George Schmidt

Superintendent (Retired)

Joe Guffey

Warehouse Manager

Beth Boursaw

Accounts Payable

Carol Corcoran

Pre-Construction Specialist

Melissa England

Administrative Assistant

Deborah Guffey

Subcontract Compliance Manager

Brent Handy

Accounting Manager

Camille Lewis

IT & Process Improvement Manager

Lisa Miller

Administrative Assistant

Elizabeth Becknell

Human Resources Manager

Carmen Perry

SE Division Intern

Jared Couch

Kentucky Office Intern

Carter Bender

Field Employee

Cameron Collier

Field Employee

Steven Dunlevy

Field Employee

Pete Keppel

Field Employee

Wayne Nicely

Field Employee

Neil Palmer

Field Employee

Adam Shader

Field Employee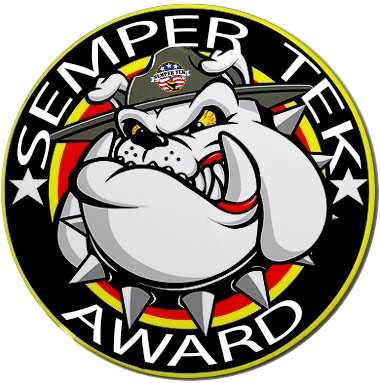 "Semper Tek is committed to providing our clients with excellent customer service, on-time project delivery,

and most importantly a safe construction environment"
The Semper Tek Bulldog Award is given to employees whose work exhibits levels of professionalism that exceed our already high standards for performance. These coveted awards are difficult to earn and are a mark of exceptional performance, which our team members strive to achieve on every project.
The Bulldog Award is an excellent motivational tool within our firm, and is an outstanding service to our client.
Look for these hard hat stickers on our jobs sites and in our offices.
2021 Bulldog Award Recipients
Tony Anderson
The Safety Specialist at James H. Quillen VA Medical Center (Mt Home, TN) has communicated his appreciation towards Semper Tek's Safety program for the project.  Tony's proactive approach, communication, and follow up on safety related items warranted an official  "atta boy" message from Joshua Culver.
Cameron Collier
Memphis VA
Cameron was recognized for his continued dedication to the Memphis VA program. As a carpenter, Cameron works under numerous superintendents but due to recent needs, Cameron has been able to assist in supervisory related tasks. Cameron's assistance was critical on having 3 projects running concurrently (2111 Hall & Walls, 2114 Remove Pavers and 2119 Flooring RmG109) where the demand required to work long hours and weekends.
Superintendent Fill in
For his outstanding initiative to step-up and assume the duties of Superintendent while other field management was off due to COVID protocol. His coordination of work and communication efforts helped to keep the work progressing as planned. He also did an excellent job during an OSHA inspection during this time while he was filling in for the assigned Superintendent
James Ruley
Continuing Care Facility
James Ruley was given a bulldog award  for his hard work and dedication on projects at the Lexington VA Medical Center. James has worked many extra days and long hours during construction of the Continuing Care Facility (CCF).
Steven Dunlevy
Dishwasher Replacement
For working very long hours on the Dishwasher replacement project in Murfreesboro in order to meet a very tight deadline on completion of that work.
Shawn James
Ft. Benning Hangar Doors
Shawn finished the project two months ahead of schedule and received exceptional comments from USACE for his work on the project. He filled the triple-hat role of Superintendent, Quality Control Manager, and Site Safety & Health Officer on the project, all at a new Base we had not worked at before.  His outstanding leadership and organization helped us to exceed contract requirements and the expectations of a new client.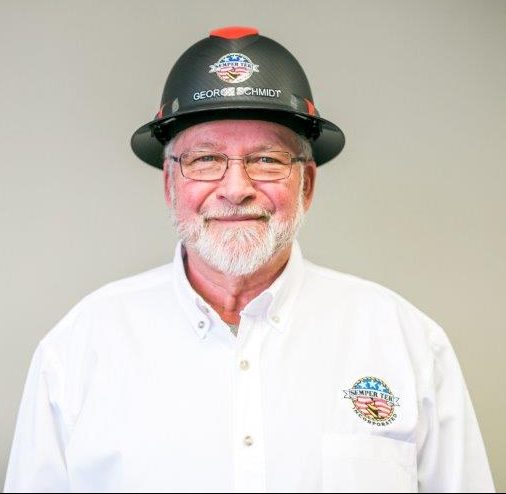 Congratulations on your retirement…
George Schmidt
The Semper Tek Family wishes George Schmidt, Superintendent a wonderful retirement!  George was our 2nd most tenured employee and has been with Semper Tek for more than 11 years. He successfully completed projects in multiple states for multiple clients over the years. In recent years, George spent a majority of his time at the VA facilities in Lexington KY. In fact, George became such an everyday fixture that he was often mistaken as a VA Engineering employee!
While we will certainly miss George's work ethic and dedication, we hope that he and his wife Sally enjoy their time in retirement. Thanks George for all your contributions to Semper Tek over the years and congrats on a well-deserved retirement.