The Moody-Valdosta Post has been active again for more than a year and has gained a lot of momentum thanks to the hard work of many, including two Semper Tek, Inc. (STI) employees. Mr. Santiago Iturralde, SE Division VP for STI, has served in 2018-2019 as the Post Vice President and was an integral figure in helping to re-launch the Post which had been inactive for many years. Additionally, Mrs. Camille Lewis, IT and Process Improvement Manager for STI, has served the Post in the past year as an administrator and program coordinator. On Monday, July 15 the SAME Moody-Valdosta Post took a moment to recognize the work of the 2018-2019 Board, as well recognize Camille for her leadership before installing their new Board of Directors during their monthly membership meeting. Lt Col Francis, 2018-2019 Post President showed his appreciation for their hard work on behalf of the Post by presenting them each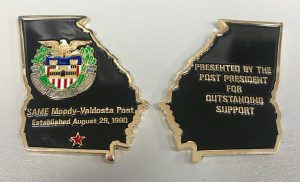 with a SAME Post coin.
Following the comments, the 2019-2020 Board of Directors for the SAME Moody-Valdosta Post were announced and installed.
The officers include:
President – MSgt Amanda Jones
Vice President – Bill Bryan
Secretary – Camille Lewis
Treasurer – Anthony Payton
Scholarship & Fundraiser – MSgt Bruce Holden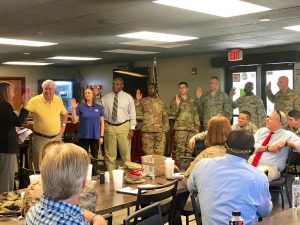 Programs Chair – 1Lt Kyle Michael
Membership Chair – Santiago Iturralde
Enlisted & Young Members Membership – MSgt Joe Beale
STEM Outreach – TSgt Aundrey Esmie
Social Media & IT Support Liaison – MSgt Andrew Blackwell
The SAME Moody-Valdosta Post is excited to continue to offer monthly Programs to the local membership, as well as work within the Valdosta Community for STEM programs. The Post will soon launch a Facebook page where members can engage outside of meetings. If you're interested in learning more about the SAME Moody-Valdosta post, visit their website at www.SAMEmoodyvaldostapost.org