Scott Matheny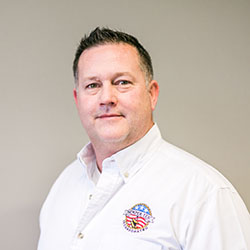 Founder and President
Founded Semper Tek in 2008

Scott Matheny is a U.S. Marine Corps Service-Disabled Veteran who served in a military occupational specialty as a Military Policeman. Scott did not deploy, but was stationed in multiple areas including Paris Island, Camp Lejeune, Lackland AFB, and the Lexington, KY Military Police Reserve Unit.
Scott states that "serving his country was a great honor." He firmly believes that there is not a greater country on earth that allows us to have the freedoms and opportunities that we share in the United States. He says that "he is proud to have played a small part in maintaining those ideals."
Scott's military service has had a profound impact on his life and livelihood. His service connected disability provided an opportunity for him to start and operate Semper Tek, which is a verified Service-Disabled Veteran Owned Small Business General Construction firm. This set-aside allows the firm to compete for construction work for multiple agencies who are required to contract with firms that have this designation. Much of the work performed by Semper Tek is for the Department of Veterans Affairs. Scott is very proud to have the ability to work for the VA and other agencies on military bases. "I feel very proud that our firm has the opportunity to positively affect the lives of both current and former military service men and women. The things we do each day are very small in comparison to what many of our service members and their families have had to sacrifice in order to serve this country. Not unlike our company, it is the people who make up this nation that makes us such a great one. It always amazes me that we have so many folks that voluntarily sacrifice as much as they do in order to protect and serve this country. Working at VA facilities and military installations is a constant reminder of what these men and women were willing to do in order to protect the freedoms and way of life we all share."
Scott encourages others to serve in the military. He believes that there is no better way to learn discipline, respect, teamwork, and work ethic. He credits his service for his ability to work under pressure and overcome adversity. His service in the Marines was so meaningful to him, he named his company for the Corps 11 years ago!