Shawn James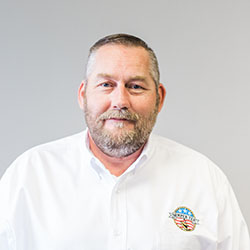 Quality Control Manager
Joined Semper Tek in 2019
Shawn James is a U.S. Navy Veteran. He was stationed at Sasebo, Japan and Ingleside, Texas during his four years of active duty service. Shawn separated from the Navy as an E-4 after performing as a Mess Management Specialist. His deployments included time in South Korea, Philippines, Guam, Hawaii, Australia, Singapore, Thailand, Malaysia, and Bangladesh.
Shawn enjoys being able to work at Military Bases and in VA Hospitals through his job at Semper Tek. He says of his current work as a QC Manager for a VA Clinic project at Fort Knox, "This project, and the other work we do at Semper Tek serves as a reminder of my past." Shawn credits the Military with making him the man he is today. His service taught him that perseverance and hard work will get the job done. He encourages others to serve and to select a rating/job that will provide transferrable skills to the civilian work force.
We are proud of the service of Shawn James. We thank him and all the Veterans for their service and sacrifice this Veterans Day.