John H. (Butch) Merritt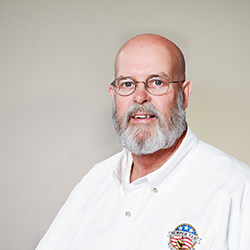 Quality Control Manager/SSHO/Superintendent
Joined Semper Tek in 2016

Butch Merritt is a U.S. Navy Veteran. He served for a total of six years, four of which were active duty and two years as a Naval Reservist. During his service Butch worked as an Air Traffic Controller earning the rank of Air Controlman 2nd Class (E-5). He was based in NAS Saufley Field, NAS Glynco, NAS Jax, Mayport Naval Station and USS FDR CVA-42. Additionally, he deployed to the Mediterranean twice and sailed all around Europe.
To Butch, the service to his country means everything to him. "I'm so proud that I was part of preserving the liberties we enjoy today. I would have given my life for my Country, and I would today as well. God Bless America!"
Today, Butch works as a Quality Control and Safety Manager primarily on active duty military bases and at VA hospitals. He views his ability to work on projects that ultimately serve veterans as the "opportunity of a lifetime." This strong belief held by Butch is what makes him excellent at his job! He credits the Navy with teaching him discipline, commitment, honor and respect – all qualities he exhibits on the jobsite every day.
Butch is extremely happy he chose to serve. He recognizes it's not for everyone. He says, "Service to the Country is definitely not for everyone. Serving is about sacrifice, putting yourself at the end of the line so to speak. It's a great opportunity and is largely beneficial for the right person. I would encourage every young person to research the different branches of the military and then Go Navy, you won't be disappointed."
We are proud of the service of Butch Merritt. We thank him and all Veterans for their service and sacrifice this Veterans Day.