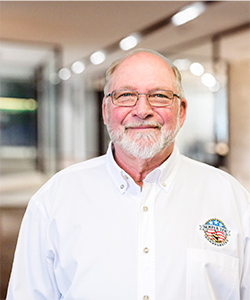 The Semper Tek Family wishes George Schmidt, Superintendent, a wonderful retirement!  George was our 2nd most tenured employee and has been with Semper Tek for more than 11 years. He successfully completed projects in multiple states for multiple clients over the years. In recent years, George spent a majority of his time at the VA facilities in Lexington, KY. In fact, George became such an everyday fixture that he was often mistaken as a VA Engineering employee!
While we will certainly miss George's work ethic and dedication, we hope that he and his wife Sally enjoy their time in retirement. Thanks George for all your contributions to Semper Tek over the years and congrats on a well-deserved retirement!
As a token of our appreciation and to celebrate George, we had this custom hard hat made for him.